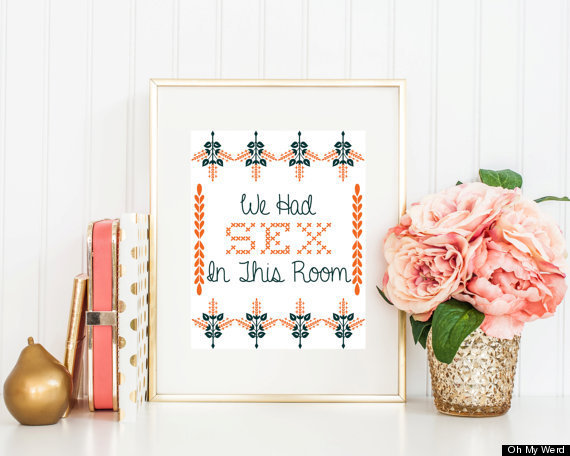 Thinking of hanging this in our guest room.
See more here.
Welcome to my periodic round-up of things I've found online that make me smile, cry, laugh, think, shout, or drop my jaw.
---
LAUGH
Oh, this is just too good:
a random text generator
spoofing
Fifty Shades of Grey
.
---
SHAKE YOUR HEAD
This is what happens when you treat your toddler like an accessory and take her to a decidedly grown-up event.
OH MY GOD pic.twitter.com/oyMqHEvQRg
— Laura June (@laura_june) February 12, 2015
The original Twitter post has been deleted. Here's what the picture and comment were about:
"Quiet, baby, Mama's trying to text."
---
TAKE A DEEP BREATH
For those of us who carry our excess pounds on our tummies, "visible belly outline" is a daunting trend. Not sure I'm fully on-board with it (I'll keep my tunic-length tops, I think), but I send Kelsey Miller a high-five for
challenging her fears
, and looking so fan-fricking-tastic doing so.
---
LAUGH AND CRY
---
LAUGH
Well,
that's just plain awkward.
---
LAUGH
These
kitten-Samuel Becket mash-up
motivational posters are so good I want to print out all of them. Honestly, I sometimes wonder: if you can't say it with kittens, is it really even worth saying at all?